Congrats! You've made a choice to explore one of the best print on demand sites, specifically Printify. Look no further Printify reviews, because we have it all covered. In this Printify review we'll take a look at Printify's:
What is Printify?
How does Printify work?
Printify products
What is Printify?
Printify is an online marketplace for your printing and dropshipping needs. They offer custom print on demand (POD) and dropshipping. With Printify you can connect your WooComerce, Shopify and Etsy store and start your automatic order dropshipping.
Pricing plans
At start, in this Printify review we'll take a look at pricing. Printify app is free of charge, however, they offer also the Premium plan. This is for merchants with growing sales. It provides by up 20% lower prices that help you compete in the marketplace.
Printify product and quality review
Printify are not printing providers themselves. Meaning they don't own any printers. What they do have is a technology. They connect you with different manufacturers via one fits all solution. Printify has partnered up with several printing providers across the world. This gives merchants wide spectrum of different print products at best pricing. Production network includes:
ArtGun
Products: custom t-shirts (starting from $9), apparel. Shipping location: United States, Florida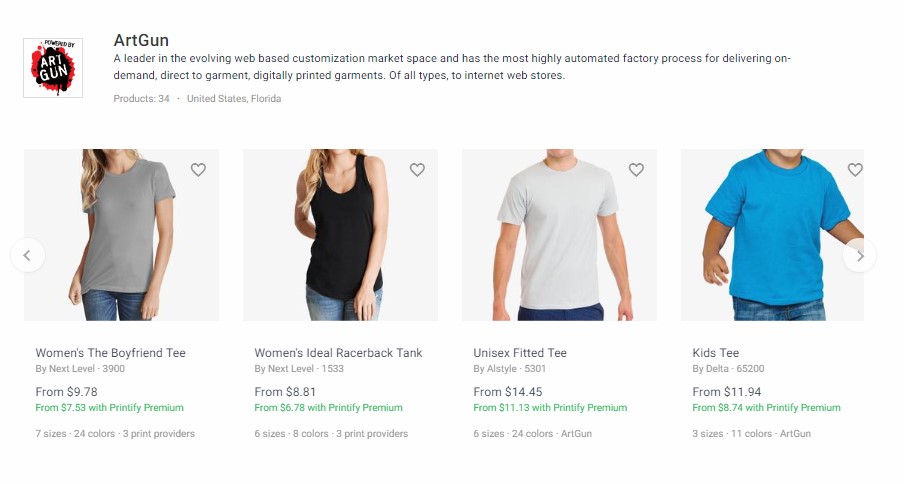 Troupe Jewelry
Products: custom jewelry. Shipping location: United States, Massachusetts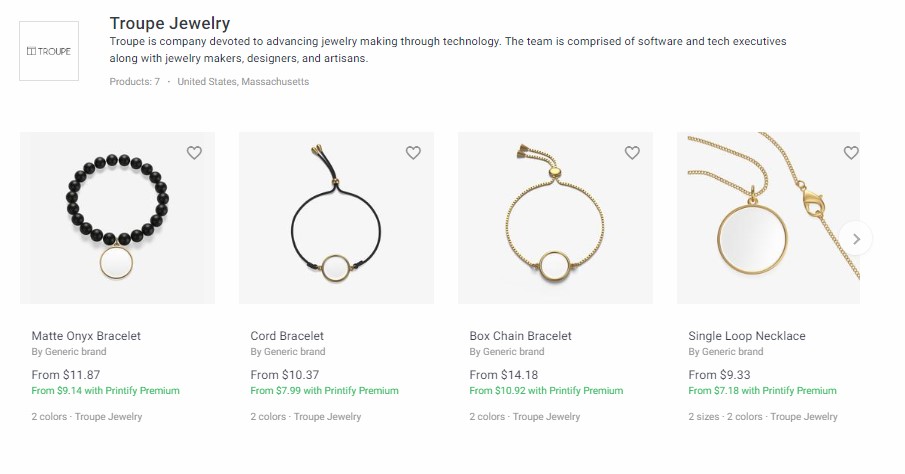 ArtsAdd
Products: custom bags, shoes. Shipping location: China, Fujian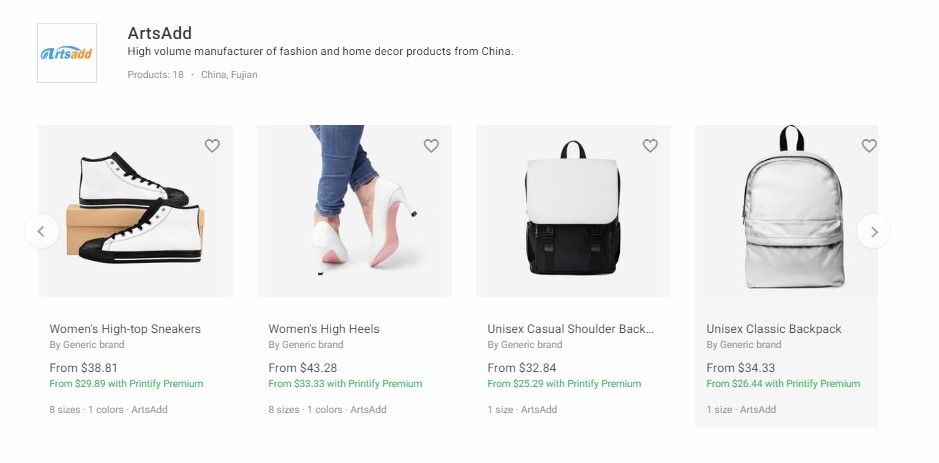 MWW On Demand
Products: custom pillows, blankets, sublimation shirts, leggings. Shipping location: United States, North Carolina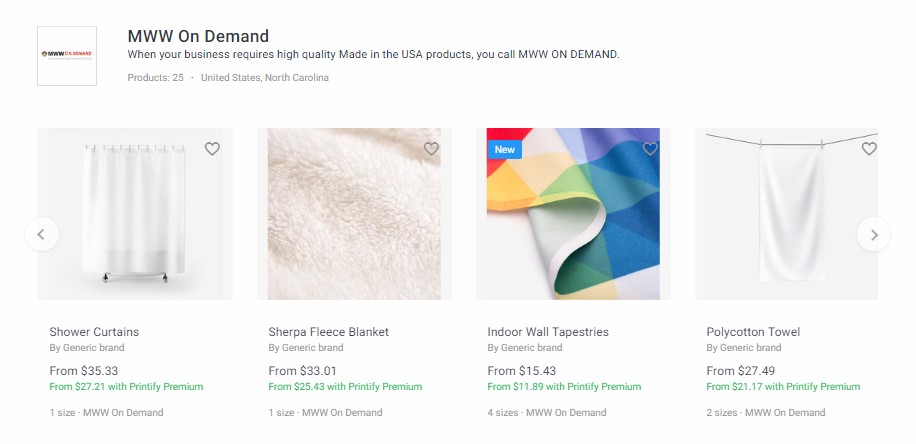 SPOKE Custom Products
Products: custom mugs, laptop sleeves, phone cases, notebooks. Shipping location: United States, Georgia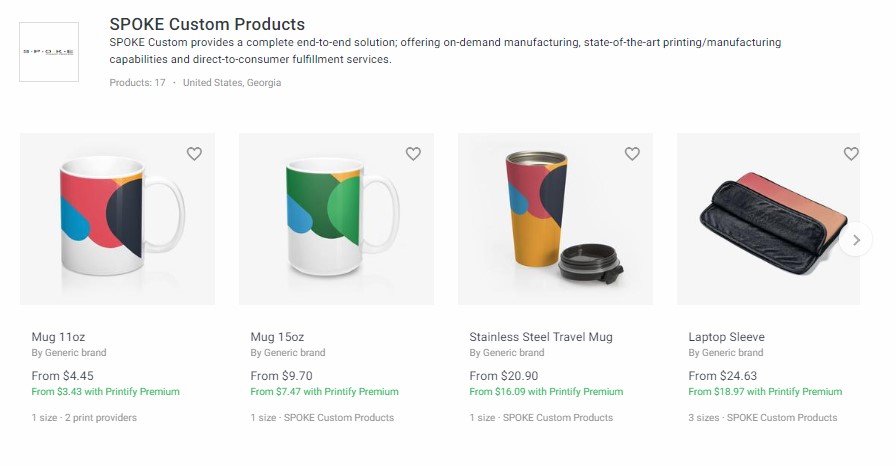 CG Pro prints
Products: custom posters, canvas Shipping location: United States, Colorado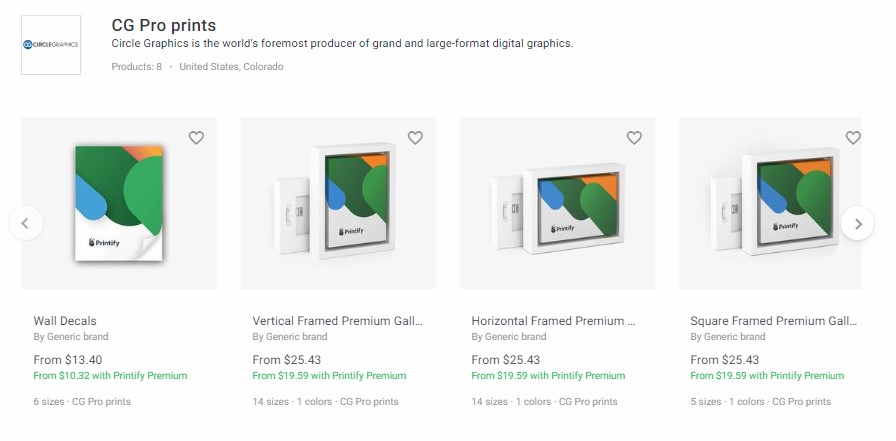 WOYC, T-shirt and Sons, Fifth Sun, MyLocker
Products: custom phone cases, custom t-shirts, hoodies, sweatshirts, apparel. Shipping locations: United States, Wisconsin; United Kingdom, Westbury; United States, California; United States, Michigan.
To sum up, in total Printify has a selection of 15 printing providers across USA, UK and China. The beauty of this is that it allows you to choose from hundreds of products that you can sell to your clients.
How does Printify work?
Let's continue this Printify reviews series. Printify has a seamless integration with Shopify. You can connect your store in few seconds and start adding products right away.
Step 1: Connect or create your Shopify store to Printify
To get started you first need to create Printify's account. Click on the link here to sign up. From there Navigate to section Manage stores, and choose connecting a new one.




For a purpose of an example, we'll use Shopify store. Sign in to your Shopify store and authorize the app install.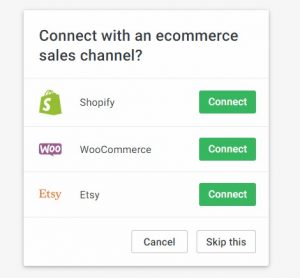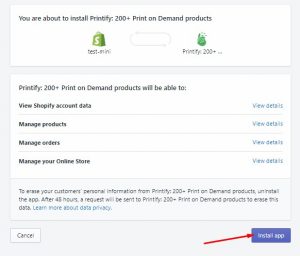 That's it! You're all connected. Next up is adding print on demand products to your Shopify store.
Step 2: Add different products to your store
Furthermore, to add your first product on your Shopify store, please have a loot at this video below. Printify has many instructional videos to guide you through the process.
Printify review – is Printify your right choice?
Luckily, we can say that Printify is a great option for your print on demand needs. Straight-forward design and well developed interface allows you to intuitively navigate through website.
After all, with Printify you're not only able to connect with large printer networks that you would not be able to do on your own but also have great profit margins selling your custom products.