One of the keys of being successful in ecommerce business is using the right tools to manage your business. The number of available tools is enormous. From marketing automation to competitor keyword research.
In the article below you will find a list of tools that can come handy for marketing purposes, ad performance examination and competitor research.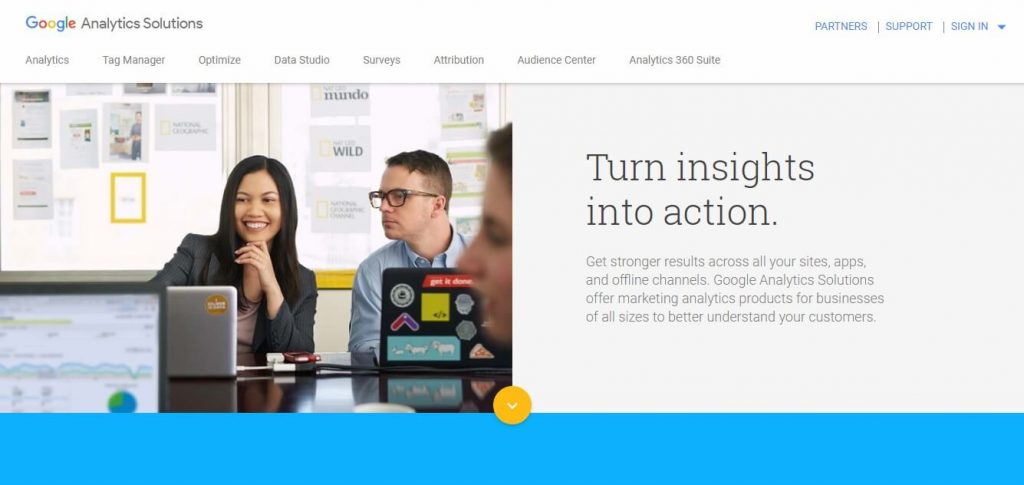 Google Analytics is free software and helps you with information that will allow you optimize your site's performance, product descriptions, track visitor behavior on your store and examine paid ad results. With Google Analytics you can get stronger results across all your sites, apps, and offline channels.
Google Analytics is a must-have for any ecommerce business no matter large or small. Google offers free training materials to help you master the tool when you get started. There are other apps with better interface and data, however, Google is still the most popular one as it doesn't cost you a thing.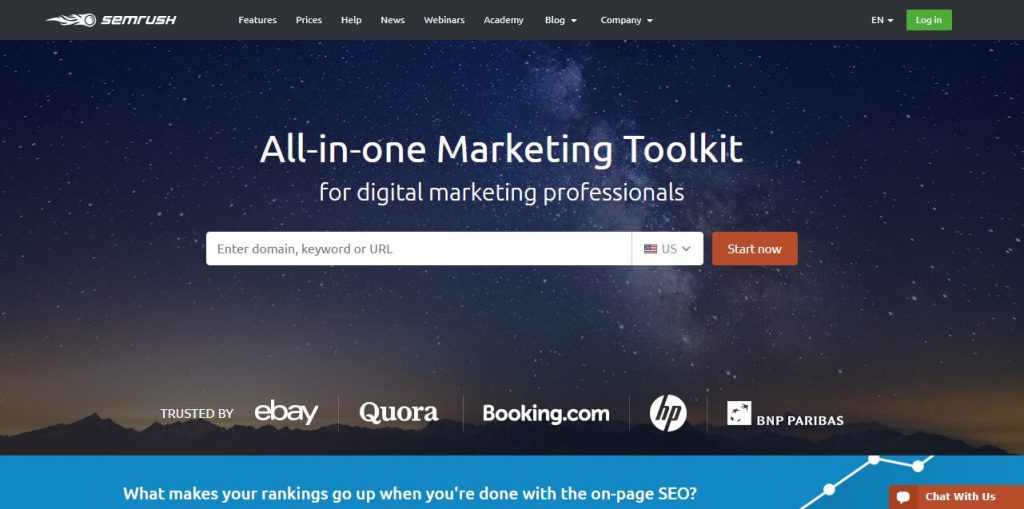 SEMrush is SEO optimization platform with strong tools for keyword research, crawling and domain monitoring.  Pricing starts at $69.95 per month to a yearly fee of $5,499.50 based on the depth of reports you need..
Ecommerce businesses who want insights into their website's performance, top keywords in their niche, and their competitors will benefit from this tool. This ecommerce research tool tracks more than 100 million keywords and almost 90 million domains.
With this tool ecommerce owners can examine their own websites, competitor website and receive reports that show  strengths and weaknesses of your website and it allows you to cross reference data with competitor's results, improve your SEO ratings and analyze ad campaign performance.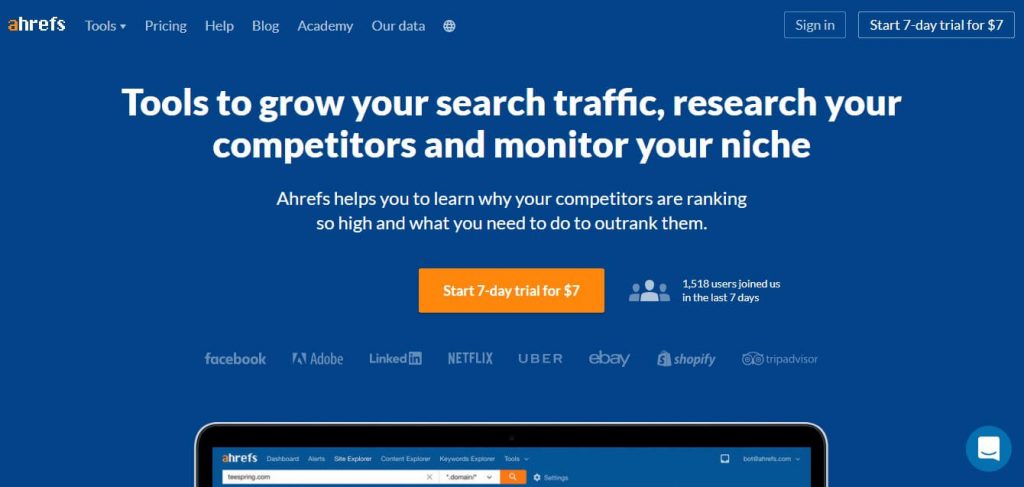 Similar to SEMrush Ahrefs can be used to understand the web marketing strategies of ecommerce websites.
Ahrefs is a solid SEO tool with capabilities to research backlinks, web crawling. The keyword features are limited and the UX interface is quite basic compared to other tools out there, but the tool covers all the primary SEO research and optimization needs. If you're running short on budget this is a great all in one tool, however, it does lack some advanced features like content analysis and link auditing.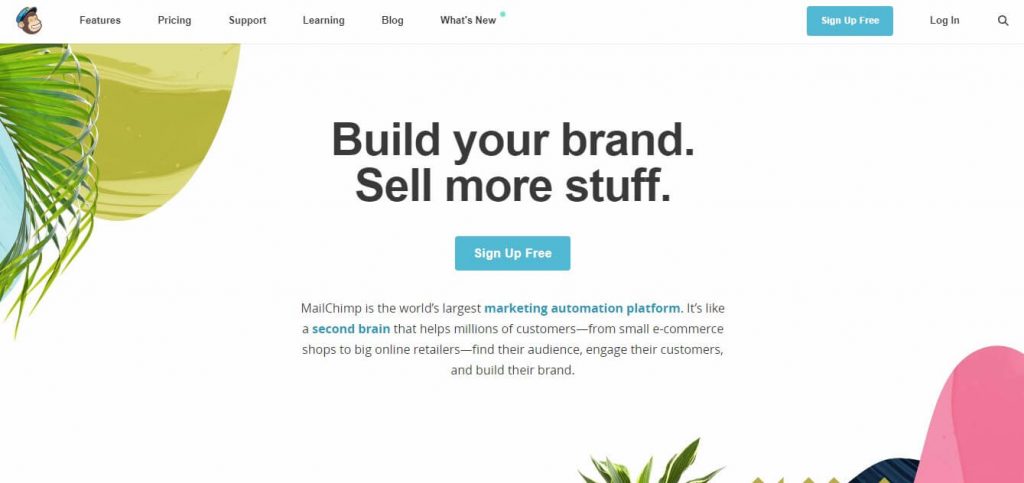 Emails can be a hassle for all size businesses, but if you are willing to grow your business and drive customers to your website, you need to build an email list. MailChimp is an email marketing tool for sending mass emails, collecting stats, improving performance and. Pricing structure is subscriber list based- MailChimp has a free plan and the lowest subcription plan starts at $10 per month for up to 500 subscribers.
MailChimp is  packed with templates that are easy easy to use and customize. Mailchimp allows you to segment your lists and run reports.
Content is always the main aspect to success and social media is one of the most popular channels for publishing it. Buffer app will allow you to track your social media audience's interest in topics, allow to plan social media publishing calendar.
Buffer's focus is on ease of use and it is aimed at smaller organizations that not necessarily need an in-depth analytics. The analytics dashboard offers interesting insights into your audience's behavior. They offer individual plans ranging from $0-$10, however, these don't include the analytics tools. Business plans range from $99-$399 and prices are annual.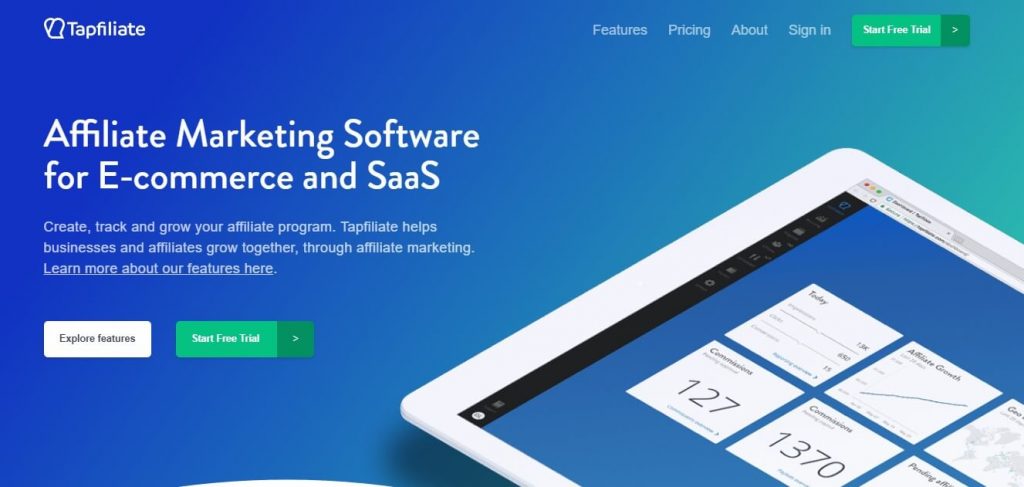 Word of a mount marketing (referral) and affiliate marketing channels for a lot of companies are the most profitable marketing channel and with highest conversion rates.  TapAffiliate is a referral marketing software that offers two pricing plans $69 and $149/month. Pricing structure is based on the overall features and the customization options. TapAffiliate gives both merchant and publisher a number of performance tracking and analysis tools. The don't charge subcommissions.
TapAffiliate integrates with most popular ecommerce platforms and is white labeled solution.